Adirondack Hiking .com is the premier online guide to hiking and climbing the 46 High Peaks in the Adirondacks showcasing hundreds of exciting attractions throughout the Olympic region and upstate New York. Keene and Keene Valley are known as the "Home to the High Peaks". The greatest number of high peaks in the Adirondacks (in a single location) rise majestically in the Keene/Keene Valley Region making this area a meca for hikers, climbers and other visitors who wish to experience the remarkable beauty
of the Adirondack mountains. There are literally hundreds of trail heads located in the tiny hamlet of Keene including the trail to the summit of Mt. Marcy, the highest mountain in New York State.

The Adirondacks offer some of the best hiking, camping and recreation opportunities in the northeastern United States. The hills are big; it is known as the High Peaks region, Mt. Marcy reaches 5,344 ft, Algonquin is 5,114 ft, and there are more than 40 peaks over 4000 ft tall so the hiking can be challenging but the views that you get while ascending, and while standing on the summits are well worth the effort.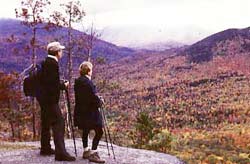 Adirondack Hikers
Photo courtesy of Jim Grant

Mount Marcy:
This is the highest mountain in the Adirondacks with 5344 feet. Marcy is located in the middle of the High Peaks Region. This mountain must be seen from a very close location to be able to admire its beauty. Three of the major accesses to the Adirondack region make possible a day hike to it. The shortest approach start at Heart Lake and follows in and out the Van Hoevenberg Trail. This is a 23,75 km hike that takes an average of 7˝ hours. The easiest way to shorten this distance is to camp at Marcy Dam. This will cut 7,3 km to the distance. Marcy Dam is a rustic camping area. It takes an hour of walk to get there from Heart Lake.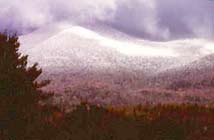 Giant Mountain:
This is one of the most popular hiking peaks of the Adirondacks. The two main trails are at 1 km (Roaring Brook Trail) and at 3 km (Ridge Trail) South from St-Hubert. The Ridge Trail is the most spectacular one with from the middle of its height a long bare rock section with many viewpoints toward the West over the Dix Range, The Great Range, Mt. Marcy, Algonquin Peak and up to Cascade Mt.. This trail difficulty is similar to the one of Algonquin Peak from Heart Lake. They have similar length and high. The beginning of the Ridge Trail is very steep whereas the one of Algonquin Peak is very progressive. The second most popular approach is the Roaring Brook Trail that passes a side trail leading to a waterfall (Roaring Brook Falls) then follows a ridge with some viewpoints to the summit. It is possible to make a long loop using those two trails

Cascade Mountain:
One of the most popular hiking summits of the Adirondacks with Algonquin Peak and Giant Mt.. It's the easiest hike among the 4,000 feet summit. Cascade Mt. has a 360 degree view from its large rocky top. There is a magnificent view to the North of the entire Lake Placid Valley. The entire hike is in a wooden trail except for the last half km, which is on bare rock. This summit stands apart from the other High Peaks, so there is no view over those highest summits that are Mt. Marcy, Mt. Colden or Algonquin Peak.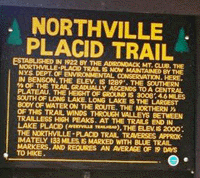 The Northville - Placid Trail
The Northville Placid Trail is a 133 mile walking / hiking path that goes through the heart of the Adirondack wilderness in New York State. The trail crosses the Adirondack wilderness by means of a low lying path. It has several trails intercepting it that head up the peaks, but the majority of the Northville Placid Trail cuts between the valleys and along streams. click here for descriptions of the entire trail.

Gothics
Gothics, the 10th highest peak in the Adirondack Park, has an impressive 360° view. This proposed hike is less popular than the one starting from The Garden, but it has a lot of things to see as: many viewpoints of the Gothics Arch, an impressive ascent to the Pyramid summit on your way down and a passage near two of the highest waterfalls in the Adirondack. The whole hike is a loop of 21 km. The only drawback is the long and doll Lake Road you will walk on your way in and out.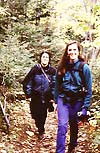 Colden
Colden is located between Marcy and Algonquin. It offers a 360° summit view and a long open ridge. This hiking trip is an other way to visit the great area of Avalanche Pass. The whole hike is a loop of 21 km.
Phelps
A small summit from the list of those over 4,000 feet but its half open summit has one of the best views in the Adirondacks. Over 10 km of the trail is on flat or low grade ground. The whole hike is 14 km long.
Noonmark
An open summit that is just under the 4,000 feet level, very similar to Cascade. It has a better viewpoint toward many of the highest peaks than Cascade. If you're looking for a longer trail, it's possible to make a loop and even add Round Mountain on your way. The shortest hike has a total of 6.6 km.
We invite you to take a virtual tour of some of our most popular travel destinations including the historic mountain communities of Keene, Keene Valley, Lake Placid, Jay, Wilmington, North Hudson, and Tahawus.

The History of Keene in the Adirondacks
Keene received its charter on March 19, 1808. It consists of the hamlets of Keene, Keene Valley and St. Huberts. It was formed from portions of Elizabethtown and Jay and until 1848 included all of the land now lying in North Elba, which is now home to Lake Placid, host to two winter Olympic Games. After the Civil War, a young landscape artist by the name of Perkins settled in the area for two years. His beautiful paintings inspired his colleagues to travel to the Adirondacks to see what he had seen. As this local population of artists expanded, the Keene Valley Region became a popular retreat for writers and artists. Today, Keene is home to many respected authors and artists who find inspiration in the natural beauty of the High Peaks. Keene is a popular hiking area with jump offs to several of the major high peaks.

SAVE UP TO 50% ON LAKE PLACID HOTELS
The 46 High Peaks
The High Peaks Region is famous for its magnificant 46 peaks including Mt. Marcy, the highest peak in New york State, with an elevation of 5344' .The 46 peaks include the following mountains (listed in order of height):
Mt. Marcy, Algonquin Peak, Mt. Haystack, Mt. Skylight, Whiteface Mtn,Dix Mtn. , Gray Peak, Iroquois Peak , Basin Mtn., Gothics, Mt. Colden, Giant Mtn., Nippletop, Santanoni Peak, Mt. Redfield, Wright Peak, Saddleback Mtn., Panther Peak, Tabletop Mtn., Rocky Peak Ridge, Macomb Mtn., Armstrong Mtn. ,Hough Peak, Seward Mtn., Mt. Marshall, Allen Mtn., Big Slide Mtn., Esther Mtn. , Upper Wolfjaw, Lower Wolfjaw , Street Mtn., Phelps Mtn., Mt. Donaldson, Seymour Mtn., Sawteeth, Cascade Mtn., South Dix, Porter Mtn., Mt. Colvin, Mt. Emmons, Dial Mtn., East Dix, Blake, Cliff Mtn., Nye Mtn., and Couchsachraga Peak.

Topographical Maps of the Adirondack Mountains
High Peaks Region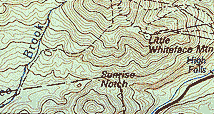 click here

For Emergency Regulations Adopted For High Peaks Wilderness Area
New York State DEC - click here

For Current Adirondack weather and mountain forecasts for hikers and climbers - click here



ADIRONDACK PHOTOGRAPHER SHOWCASE
Carl Heilman II
Outdoor photographer Carl Heilman II has lived in the Adirondacks in upstate New York since he moved to the region in 1973 to live in his parents' summer home. Carl Heilman II has been photographing the Adirondack wilderness landscape since 1975, working to capture on film both the grandeur of these special places, and the emotional and spiritual connection he has felt as well.


Adirondack Vistas
Calendar

Beautiful Lake George
Calendar

Adirondack Calendars - The Perfect Gift
By photographer- Carl Heilman
Click here

Carl Heilman's passion for spending as much time as possible in some of the wildest regions of the Adirondack Park, soon became a life-long quest to create images that record the essence of a true wilderness experience. Today Carl is a full time professional nature photographer.His photographs and panoramas are also available as posters, murals, and special edition prints. His selection of Adirondack posters includes a pair of panoramic posters that show the full 360° view from the summit of Mt. Marcy, and a panoramic image of the spectacular fall foliage and the High Peaks from Mt. Van Hoevenberg. Each winter, as a NYS licensed guide, he leads backcountry snowshoeing workshops at the Mountainfest in Keene Valley, and has lead them for the Adirondack Mountain Club at the Adirondak Loj near Lake Placid, Click here for more information on Adirondack Artist Carl Heilman.


The Best of the Adirondacks

Baxter Mountain
Jim Grant - contributing writer
When I think of the best time of the year to hike in the Adirondacks, I recall the words of a forest ranger I'd met at Adirondack Loj headquarters at Heart Lake, "You just can't beat being in these peaks in the fall. The bugs are gone, the air is cool, and the color of the leaves, well, they'll make you stop what you're doing and make you think you'd gone to heaven."
I was in the mood for a little bit of heaven last Friday. As it was just the first week of September, the weather was still warm. In fact, today's high called for a record 90° with the potential for afternoon thunderstorms. But a glance out of my cabin window to the top of a century-old maple revealed the first scarlet hues of fall.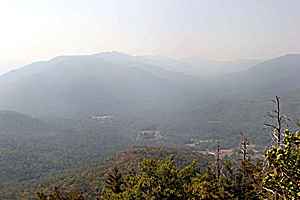 View from Baxter Mountain
Photo courtesy of Jim Grant
Fall foliage here is kind of like watching a puppy grow up. It happens quickly, and if you don't pause now and then to enjoy it you'll miss it.
Another tip on hiking in the area is that you don't have to climb one of the legendary 46 Peaks to get a great view. In fact, there are a dozen or so smaller mountains that offer a rewarding wilderness experience, and that are ideal for families looking for a short hike.
One of my favorites is Baxter Mountain overlooking the village of Keene Valley. The most popular trail, which is just over a mile in length for this the 2,440' peak, begins off of Route 9 and on Spruce Hill. The sign's a little faded, but keep your eyes peeled on the right hand side of the road. If you come to the Baxter Mountain Tavern on the left you've just missed the start of the trail.
The land here is privately owned, but remains open to all except hunters, fishermen and campers. Just off the highway the trail begins through a field of purple Aster, Golden Rod and daisies, sure signs that fall is on the way, and continues into a forest of pines that provide welcome shade.
The path to the summit can be accomplished casually in under an hour and offers a generally moderate grade. Along the way you'll see a nice variety of maples, paper birch balsams and hemlocks. Occasionally, you'll also see enormous glacial erratic boulders that offer a convenient spot to sit and rest. These boulders, left in place after the last ice age some 10,000 years ago, are layered in places with a luxurious carpet of emerald mosses that remain cool and moist throughout the day.
Following a series of gentle switchbacks, the approach to the peak becomes steeper, but soon levels off to a series of overlooks with stunning views of the valleys below and peaks of the Great Range including the tallest in New York State, 5,344' Mount Marcy. Continuing on to the final summit you'll be able to look down to the village of Keene Valley nestled in the base of the surrounding mountains.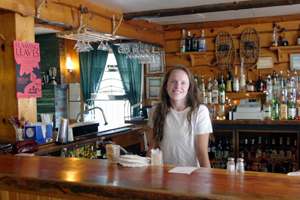 Baxter Mountain Tavern
Photo courtesy of Jim Grant
As with much in life, timing is everything. If you begin your climb at around 10 o'clock, you'll be back at the trailhead at about noon and just in time for lunch at the Baxter Mountain Tavern, about an eighth of a mile north on Route 9N. The restaurant's been a landmark for decades, and for the past 10 years has been run by Dave Deyo.
Dave describes the menu as typical "Adirondack Continental", which includes casual fare such as the Baxter Mt. Burger, a hardy 8-ouncer, with sautéed mushrooms and onions topped with melted American cheese, lettuce and tomato at $7.95. Or try a house specialty, the sesame encrusted tuna served over fresh baby spinach and topped with a wasabi sauce for $15.95. For a beautiful view of the surrounding peaks try the Tavern's, spacious deck.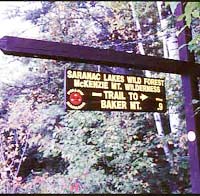 Adirondack Trail Guide
and Hiking Resource Center

Adirondack White Water Rafting
Each spring, the streams and rivers build up a head of water from the snows melting down from the mountains. This water pours into the rivers and streams that can cause some pretty fast running water. Today there is the challenge and adventure of Whitewater Rafting, with 12 man rafts, canoes, and even kayaks. What is Whitewater Rafting? You put on a wetsuit, climb aboard a raft, grab a paddle, and shove off. Between hanging on, paddling for dear life, getting soaking wet, and yelling your head off, somehow you survive. Individuals with little to no experience can enjoy a wilderness rafting trip by taking advantage of the services offered by outfitting companies. Whitewater Rafting trips are designed to emphasize learning, paticipation, and enjoyment and can vary from easy excursions to wild adventures. Depending on the time of year and the waterway selected, you can enjoy rafting from a mild mannered river wild, turbulent sea of heart-stopping adventure.


HUDSON RIVER WHITE WATER RAFTING.COM
Hudson River Gorge whitewater rafting trips rated one of America's "Top 10." Discover this wilderness gem in upstate NY's Adirondack Mountains. Awesome unspoiled scenery, great whitewater.




WHITE WATER RAFTING TRIPS
Offering amazing white water rafting trips all over the US and Canada! Search for the best white water deals from New York to California all over the web. Choose a trip for any age or ability level. Ideal for families, groups and solo travelers.


WHITE WATER RAFTING VACATIONS
America's experts in rafting bring you rafting trips on 44 of America's most fun rivers. Professional guides. Beginners to experts welcome. Using only state of the art equipment insuring a great adventure in the water. Large Groups welcome!





SAVE UP TO 50% ON HOTELS IN LAKE GEORGE



Lodging Showcase


All Hotel Search Lake Placid
Stop here first for great deals on hotels in Lake Placid, New York. Compare our Lake Placid, New York hotel rates and save up to 50%!. Book online now!








Adirondack Golf
The Adirondacks have been a summer destination for golfers for over one hundred years. It is a golfers paradise with several world class courses for you to choose from. From scenic Craigwood , to 45 hole Lake Placid Club , Whiteface Club and Resort & the Saranac Inn, to smaller Saranac Lake Golf Club and Westport Country Club, you won't be disapointed .

Golf Packages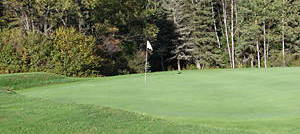 New York Golf Package
Bargain New York Golf Package & Hotel Rates. Read Reviews
and Browse Amenities! Save big on your entire trip, even last minute travel.



Lake Placid Golf Package
Lake Placid summer golf packages . Lake Placid offers hundreds of links and spectacular golf in the heart of the Adirondacks. Award-winning courses offer a unique variety of golf for players of all abilities in a truly breathtaking mountain setting.

Golf Course Homes
Find your perfect home. Residential Golf Community guide and information for country clubs, golf communities and private golf communities across the United States.


Lake Placid / Saranac Lake Area Golf Courses

Craig Wood Golf Course -
518-523-9811 877-999-9473 (In Season)
Craig Wood Golf Course offers a challenging round of golf in a spectacular setting. Designed by Seymour Dunn in 1925, this carefully maintained municipal course is strategically carved into the Adirondack countryside. It's the perfect opportunity for a great round of golf.

Lake Placid Club Golf Courses -
Tee Times: 518-523-4460 800-874-1980 Lake Placid
Set amidst towering white pines in the heart of Adirondack splendor the historic Lake Placid Club offers unique real estate that is stunning in its natural beauty and rich with recreational opportunities. The Club comprises over 900 acres of land providing a variety of exclusive Adirondack homes, Condominiums and lots with an unmatched range of amenities - including 45 holes of championship golf - and conveniently located close to the center of the village of Lake Placid.

Whiteface Club & Resort Golf Course -
518-523-2551 1-800-422-6757 Lake Placid
Whiteface Club Golf Course is one of the most notable and majestic golf courses in the eastern United States. Built in 1898 on the shores of Lake Placid, it soon became the course of royalty, move stars and famous sports figures.

Saranac Inn Golf & Country Club -
518-891-1402 Saranac Lake
The Saranac Inn Golf and Country Club was founded at the turn of the century and designed by renowned Scottish Pro and Architect Seymour Dunn. The course was designed using the natural terrain to provide a wonderful golfing experience, with spectacular mountain views, pure mountain air and a memorable fragrance emanating form the balsams that line the course.


Saranac Lake Golf Club -
518-891-2675 Ray Brook
A friendly 9-hole course on route 86, between Saranac Lake and Lake Placid fun for both novice and experienced golfers. Offers a complete practice facility. 518-891-2675.
ADIRONDACK CAREER DIRECTORY
Are you tired of your job? Ever thought about going back to school in your spare time to further your career?
Online programs give working adults and full-time students tremendous scheduling flexibility and the opportunity to earn a degree in less time than is usually possible through on-campus attendance.
If you want to start or accelerate your career, explore the online programs & request free information in the following areas:
click on the links below

THE POSITION OF NEW YORK STATE CORRECTION OFFICER:
Candidates must be 21 years of age on or before the date of their appointment Correction Officer positions are located throughout New York State in various facilities of the NYS Department of Correctional Services.
As a Correction Officer, under the direct supervision of a higher-ranking officer, you would be responsible for the custody and security, as well as the safety and well-being of criminal offenders in State Correctional Facilities and Correctional Camps. You would supervise the movement and activities of inmates; make periodic rounds of assigned areas; conduct searches for contraband; maintain order within the facility; and prepare reports as necessary. You would advise inmates on the rules and regulations governing the operation of the facility and assist them in resolving problems. You would have a high degree of responsibility for your actions and decisions. You may also be required to carry firearms in the performance of certain duties and to perform other related work as required.

Online Criminal Justice Degrees

Earn a degree in criminal justice or security online in your free time.
Search for the perfect online program to suit your
lifestyle & time constraints. Criminal Justice, Public Safety, Info Security, Homeland Security and more.

The majority of jobs in the New York State Department of Correctional Services are filled by Correction Officers, who are required to pass a written Civil Service exam and undergo extensive medical, psychological, and background checks. Correction Officer positions are located throughout New York State in various facilities of the Department of Correctional Services. Correction Officers are responsible for the custody and security as well as the safety and well being, of criminal offenders in State Correctional Facilities.

Click here for more information on jobs in criminal justice!
Have you ever thought about publishing your very own book about hiking in the Adirondacks?

You Have The Talent, We Have The Resources!



Are you an author looking to publish your masterpiece? BookPublishers.com could connect talented writers like you with willing book publishers. For many talented authors, the most difficult obstacle isn't writer's block—it's finding a receptive publisher to publish their books. Because publishers have to sift through so many works, they may dismiss some unfairly, or be so short-staffed that they don't have the time to give each manuscript its fair consideration.
Book Publishers.com
click here
For those who decide that finding a publisher isn't the right choice for them, self-publishing can be a great alternative. With self-publishing a writer can maintain editorial control, as well as keep all proceeds from the book sales. Whatever your preference, BookPublishers.com wants to help you on your journey to become a published author! You have the talent, we have the resources.
click here for more information

Hiking in Other Regions

Compare prices anywhere in the US on fly fishing equipment, bamboo rods, reels and hand tied flies, fly fishing schools, fly fishing books and more from over 40,000 stores across the web!
The Olympic Village of Lake Placid
Nestled in the High Peaks
The High Peaks Region is home to the Olympic Village of Lake Placid hosting the 1932 and 1980 Winter Olympics. Lake Placid has also been host for a variety of world class events including the ESPN Outdoor Games, World Cup bobsled and luge, the Ironman Triathalon, international figure skating, Empire State Games and the "I Love NY" Horse Shows. The Lake Placid / High Peaks Region offers visitors a rich variety of historic, artistic and cultural attractions.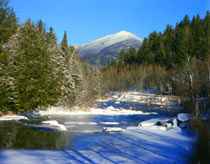 "West Branch Ausable River" by photographer Frank Houck
Lake Placid's Olympic attractions include famous Whiteface Mountain, boasting the greatest vertical drop in the East and the Mackenzie Intervale Olympic Ski Jumping Complex, where you can ride to the top of the 26 story, 120 meter ski jump in a glass enclosed elevator! Other venues include the Mt. Van Hoevenberg bobsled and luge track where you can take an exhilarating ride down the only dedicated bobsled run in the US.


AdirondackHiking.com gives you everything you need to know to plan your mountain adventure online when visiting Upstate New York and the Adirondacks. It's all right here at your fingertips . . . with just a click of your mouse!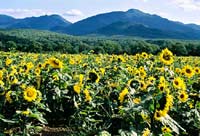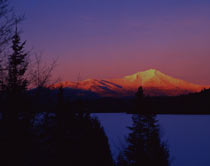 We invite you to visit our gallery of Adirondack High Peaks photos by outdoor photographers Carl Heilman and Frank Houck.
m
Donate Your Old Camper,Truck, Car or Boat to Chairty!

Campers & Hikers: Do you have an old RV, camper, truck, car or boat sitting behind your garage? Think about donating it to your favorite chairty and get a great tax write off.
Receive full fair market value as a tax deduction!
Click here to learn more and search for your favorite charity!
Free nationwide pickup and no complicated paperwork.
It's fast and easy. All vehicles accepted.
Donate Trucks.com

We invite you to visit our Adirondack Gallery showcasing unique Adirondack Furniture ~ Antler Chandeliers & Lamps ~ Hand Painted Canoe Paddles

~

Adirondack Packbaskets ~ Adirondack Prints ~ Authentic Birch Bark Framing ~ and beautiful hand crafted gifts. Click here! We also offer interior design services for Adirondack
style camps & homes.

Birchbark Picture Frames

Antler Chandeliers

Snowshoe Lamps

Hand Painted Canoe Paddles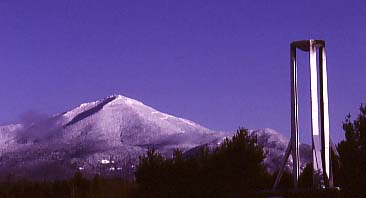 (Photo courtesy of Jim Grant)
Olympic Torch with Whiteface Mountain
in background

Adirondacks: Views of an American Wilderness
In 'Adirondacks', author and photographer, Carl Heilman II, has captured a real sense of the Adirondack region with his spectacular imagery,
and evocative narrative.
Click here to order



FIND THE HOME OF YOUR DREAMS
WITH JUST ONE CLICK!

Click here to view local listings anywhere in the US! Determine the value of your own home with one click!
Find a great loan & view the lowest interest rates online!


Adirondack Hiking .com
43 Broadway
Saranac Lake, New York 12983
Phone: 518-891-3745 Fax: 518-891-3768
E-Mail: RobGrant@northnet.org
This website is owned and operated by
adirondacks.com internet publishing group.
For advertising and editorial content,
please contact Rob Grant;
adirondacks.com reserves the right to reject,
modify or cancel any advertising at its sole discretion.